PI/O Optical Transceiver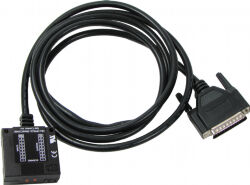 GCI's sensors are the preferred solution for E84 optical communications. GCI's full line of PI/O transceivers are fully compliant and are compatible with other manufacturers' sensors that conform to the SEMI Standard E84. Leading 300mm FABs, OEMs, and EFEM manufacturers choose the GCI sensor for its superior reliability and stability. Its over-molded DB-25 connector is high-pot tested, providing a superior alternative to the crimp-on style connector used on some manufacturers' sensors. GCI transceivers are fully SEMI compliant and are CE and UL certified.
Get Control's E84 Optical Transceiver (GCI04002) optically extends the parallel I/O communications associated with 300mm material handoff operations between active and passive entities.
SEMI® E84 compatible parallel input and output sections.
Meets SEMI® E15 interface sensor unit exclusion volume requirements for 300mm applications.
100% optical and mechanical compatibility with DMS-HB1 and DM-HB1 optical data transmission devices.
Status indicator LEDs for input, output, and go signals and optical transceiver power.
Higher quality and lower cost compared to competing products.
As an alternative to the standard parallel I/O, GCI provides Optical Transceivers with RJ-11 interfaces. RJ-11 allows greater flexibility for installment of the transceivers, while retaining compatibility with the parallel interface.
Documents
Related Products